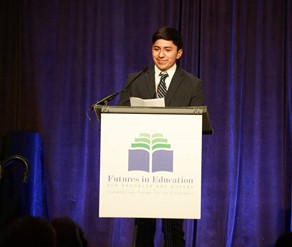 manuel
By Monsignor Jamie Gigantiello
Below is an abbreviated version of the speech given by Futures in Education 'Angel' alumnus, Manuel Hernandez, at Futures' annual scholarship dinner.
My parents immigrated from Mexico – life was not easy for them. They quickly learned the value of Catholic school when they met Sister Peggy, the principal of St. Michael School in East New York (now Salve Regina Catholic Academy). Sister Peggy was a great influence on them. Becoming parishioners made them feel welcomed in the United States. She not only encouraged my parents to marry in the Catholic church, but to send their children to Catholic school. This was very scary as they knew they didn't have enough money to afford the tuition.
My father shared a story about a conversation he had with Sr. Peggy. Being alone and separated from his family for so long had caused him to lose faith. He told her that he no longer believed in angels. His mother told him before he made the journey to the United States that there would always be an angel watching him, but he never felt like there was anyone protecting him. Sister Peggy replied, "Then how did you find me?"
When I first became an Angel student in second grade, I didn't understand what it meant. Over the years, writing to my Angel sponsors and getting to know them sparked a special motivation to make me focus on school and to make them (and my parents!) proud.
Once I learned that my elementary school Angels wanted to support me through high school, I was once again excited about my future. I was ready to face this new challenge and chose to attend Christ the King HS.
The experience of the Angel program is one I will never forget. It provided a confidence to look toward the future with hope. Which brings me to today; I am a Futures in Education Angel Alumnus. And I am the first one in my family to go to college, studying Mechanical Engineering.
To my Angels, Ernesto and Marie, I love you and thank you for being with me and my parents every step of the way. I wouldn't be where I am without you.
I, too, can now tell my father with pride and joy that angels are real!