CSW Email Banner 650x120
By Monsignor Jamie Gigantiello
We often we hear stories from our generous supporters of Futures in Education, our Angel donors, and our Catholic school alumni about how important their Catholic education was to them, providing the tools of success to grow into the people they are today.
For Janis Grieco, a Brooklyn-born retired teacher and Assistant Principal, her days at St. Bernadette Catholic Academy are filled with fond memories. Janis' parents understood the importance of Catholic education and sent Janis and her siblings to St. Bernadette in Dyker Heights, Brooklyn.
"St. Bernadette was a beautiful experience as a young girl. It was very molding going to a Catholic school. I was brought up with regimented nuns. Everything was programmed and designed to bring traditional Catholic order into our lives and having that from a young age all through the eighth grade provided me with a structured upbringing that instilled traditional values and a strong sense of moral ethics."
Janis has lots of fond memories throughout her childhood in Catholic school but a few in particular stand out.
"I was valedictorian in kindergarten! I had to kiss the Monsignor's ring. I remember it like yesterday. I was the youngest in the class and very proud of my achievement! 
She also remembered when her first grade teacher bestowed her with a simple, yet special gift.  "My teacher gave me a big box of broken crayons at the end of the school year. She had been collecting them all year long, and when she asked who wanted them, all hands went up. She picked me, and as a result I felt special."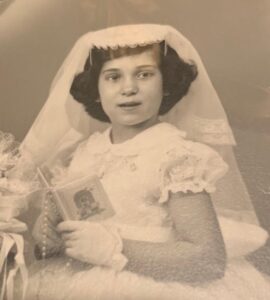 When reflecting back on the individuals who influenced her during, Janis continued, "What I can truly say is that they all cared deeply about their students, and it came through in their daily lessons. In reflection, I can remember those who struggled trying to get across a math concept, and those who really enjoyed teaching the Mass responses and Christmas songs in Latin. All of the nuns were significant to me and had a command presence about them – which in turn created a disciplined atmosphere which enhanced the learning experience. I am very grateful to all of them. Their names appear on all my elementary school report cards, and once in a while, I view these and take a ride down memory lane. They all had an impact on me in one way or another, however Sister Delores really inspired me and left a lasting influence on me to this day."
Janis also remembers how music was integral in her life at a young age.
"I started playing piano when I was 6 years old. I even played on TV once but one of my favorite milestones regarding piano was when I was in middle school at St. Bernadette. I can vividly remember my sixth grade talent show. I eagerly awaited my turn to take the stage. Another student that played the violin was going to join me for a duet.  I was the last act of the night and I played the song Malagueña, a flamenco piece by 20th century Cuban composer Ernesto Lecuona, referring to the southern Spanish port city of Malaga." Sister Delores had even reached out to Janis before graduation and presented her with a music scholarship!
Janis' time at St. Bernadette shaped her childhood and the woman, mother and grandmother that she is today. Both of her children, Laurie & Kristie, followed in her footsteps and attended Catholic schools throughout their life. Her grandson, Anthony, graduated from St. Joseph by the Sea. She is proud to see that the traditional Catholic education has been passed on with her growing family.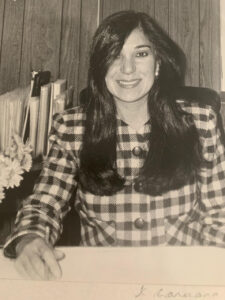 Inspired by her educators, Janis became an educator herself. St. Bernadette inspired her to give back and educate the minds of students and change their futures.  Janis began as a teacher & then became the Assistant Principal of I.S. 096 Seth Low, in Brooklyn, New York.
"As a former educator and administrator, I realize what it takes to teach children and run a school. So again, I am very thankful to all my teachers who have guided me and left such a positive impact on my life."
While she has since retired, Janis has maintained an active relationship with the Church, and implements Christ's teachings and tenets in her daily life.  Catholicism promotes giving and she is an avid supporter and patron of the church and the Catholic schools that influenced her.  She continues to be a supporter of St. Bernadette and other Catholic schools.
"Coming from a Catholic school has made me more knowledgeable on issues of faith. My religious instruction provided a solid foundation to be able to engage in meaningful conversation. Having a Catholic school education also provided a way to live life using Christ's teaching and tenets of the Church."
Janis donates regularly to St. Bernadette Catholic Academy.
"What motivates me to support Catholic education is my desire that all attending St Bernadette have the same fulfilling experience that I had."
Janis is currently living in Staten Island with her family. She owes it to her dedicated parents and family who instilled Catholic education at a young age, the educators at St. Bernadette, and the friendships she forged that shaped her life in a way that has shaped her future.
Are you a Brooklyn and Queens Catholic school alum? Did you have an influential Catholic school teacher? We want to hear from you! Call us at 718-965-7308 and tell us your Catholic school story!