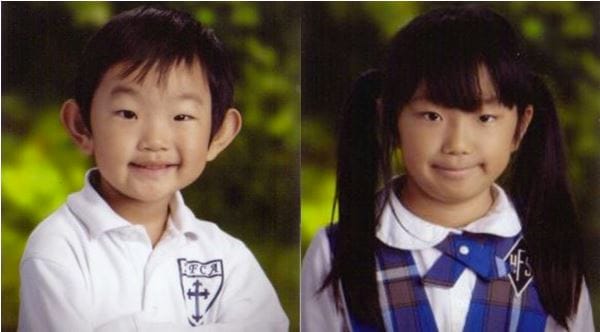 gabriel lucy news
Siblings Gabriel and Lucy have attended Holy Family Catholic Academy in Flushing for quite some time. Even though Gabriel is young, he has been part of HFCA since he was nine months old. When Gabriel and Lucy's parents finished registering Lucy for Pre-Kindergarten, they inquired how to register Gabriel for the seminary! It is the hope of the administrators at HFCA that Gabriel will remain in the school and they will be able to nurture his faith and hopefully spark a vocation in him as he grows.
Lucy has attended Holy Family Catholic Academy since Pre-Kindergarten. She is a good student and has a strong sense of her faith, which is nurtured by her family's dedication to their faith and church. As a family, Lucy, Gabriel and their parents attend Mass at Holy Family Roman Catholic Church on a regular basis. They are active in the school community by helping whenever they can and they participate in HFCA's International Festival each year. At this festival, Lucy performs a Korean fan dance and her parents bring native dishes.
Financially, this family has had great difficulty, but they want both of their children to stay in Catholic school. Without some financial assistance, the family might have had to pull the children out of HFCA. Fortunately, thanks to the generous supporters of our Be an Angel to a Student program, Gabriel and Lucy are able to continue attending HFCA for another academic year!
To learn more about how you can help students like Gabriel and Lucy afford the opportunity to attend one of our premier Catholic schools in Brooklyn and Queens, please call 718-965-7308. We graciously thank you for changing lives through the gift of education!