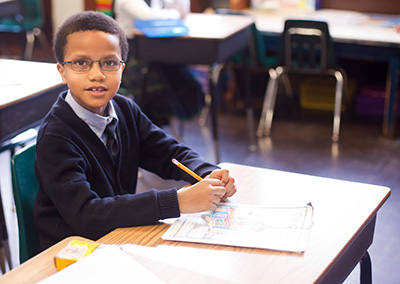 fie blog post image 400
By Nick Vendikos, Director of Development
As President John F. Kennedy said, "Change is the law of life. And those who look only to the past or present are certain to miss the future."
In the Brooklyn Diocese, Catholic schools have changed from parochial schools to academies run by a principal and a volunteer board over the past few years. If you are like me and attended Catholic schools in the 1970s and 1980s, you were blessed to have sisters, brothers and priests as teachers and professors. They were the living endowment of our schools.
While some academies are still lucky to have a religious order on their faculties, those schools are dwindling. Today's faculties have transitioned from the religious to their lay collaborators who still hold the traditions and teachings of Catholic principles in the highest regard.
We have made the necessary changes and our strategic plan for the future will ensure that Catholic academies in Brooklyn and Queens will continue to outperform their public school counterparts in the classrooms around our two boroughs, but also provide the moral and spiritual foundation that are synonymous with our schools.
Changing Lives Through the Gift of Education
Hopefully, you have supported Futures in Education in the past or maybe already in 2016. If so, thank you! If not, you can make an immediate online gift.
But this installment of New Developments isn't about an immediate gift; it is about something more thoughtful and personal.
Charities today like to use semantics when discussing planned gifts. Instead of straight talk, we use terms like "legacy gifts," "deferred gifts" or the popular "gifts that won't cost you anything during your lifetime." Very few of us are comfortable talking about our own mortality, let alone a longtime supporter's!
But Futures in Education is very comfortable asking for financial help for our Catholic school students. We believe you share our passion and belief that every child … EVERY CHILD … deserves the opportunity to a Catholic education despite financial disadvantages.
However, your legacy gift is extremely important to our Catholic schools in Brooklyn and Queens. First and foremost, a planned gift provides significant financial resources for your alma mater, or a Catholic school(s) most in need.
Here are some lifetime gifts that will serve to support the future needs of our Diocesan schools and students; however, please seek counsel from your financial advisor, lawyer or accountant to make the decision that best fits your situation:
Bequests
A bequest is property that someone leaves in his or her will to a person or charity. A bequest usually contains a specific dollar amount or a percentage of the deceased's estate. Usually the individual leaving the bequest may be taxed so it is imperative that you check with your attorney or financial advisor to determine what's best for you and your family.
Tax Deferred Retirement Plan
What has become very popular in recent years is naming Futures in Education as a beneficiary in your retirement plan such as an IRA, 401(k) plans and 403(b) plans. In fact, Congress recently enacted the Protecting Americans from Tax Hikes Act of 2015, in which donors 70 ½ years and older are eligible to transfer up to $100,000 directly from an individual IRA to Futures in Education without having to pay income tax on the money.
Life Insurance
You can take out a life insurance policy and leave Futures in Education as a beneficiary. When ownership of the policy is irrevocably assigned to Futures in Education, the cash value of the policy is a tax deductible gift, as are all future premium payments.
While you are giving opportunities to our students, and receiving tax benefits, the most important feeling you will have is the intrinsic knowledge that you have done what is right.
You have left a legacy that will live forever.