Interview with John Zipay – Alumni of Our Lady of Hope, Class of 1979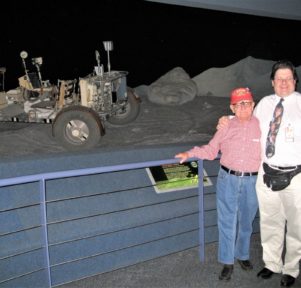 Reaching for the Stars became a reality for Our Lady of Hope Alumnus John Zipay, who credits his Catholic school in Middle Village, Queens as the springboard to his 35 years as a Structural Engineer at NASA, including the lead Structural Engineer for the International Space Station.  "I owe it all to Our Lady of Hope," says Mr. Zipay.  When Mr. Zipay was in 8th grade, in 1978-79, his homeroom teacher, Brother Vincent Adams, OFC, suggested that he take the test for Regis High School.  He agreed, but when his parents took him to the test, they were shocked to see so many young men taking the test for a few open spots in the freshman class.  Mr. Zipay credits the excellent education he received at Our Lady of Hope for giving him the skills to gain entry to the prestigious high school.
During high school he realized that he had two main interests – the space program and live theater.  He decided his focus was on the stars, rather than being a star, so he applied to and received a Trustee Scholarship – full tuition — to the Aerospace Engineering Program at Brooklyn Polytechnic (now part of New York University's Tandon School of Engineering).   Again, the solid basis in academics from Our Lady of Hope helped him fulfill his dream – there was no way his parents could have afforded college without the full tuition scholarship.  He was launched by Our Lady of Hope!
As Mr. Zipay recounts, at Polytech, he "put down his head and started work."  Good grades, and a good interview, got him into a Co-op internship at Johnson Space Center.  His Dad drove the 18 year-old from their Maspeth home to Houston – where he started work on the Space Shuttle program.  After his college graduation in 1988, Mr. Zipay received a full-time job as a Structural Engineer at the Johnson Space Center.  Within a few years he was the first lead Structural Engineer on the International Space Station, working for nine years with our post-Soviet Russian counterparts, the Japanese, Europeans and Canadians building and maintaining a habitable satellite in low earth orbit which served the world as a microgravity and scientific space environment research laboratory.  This was a long way from Queens!
His time with Johnson Space Program was not without its challenges.  He had been a young intern in 1986 when the Challenger exploded.  He worked on the analysis of that tragedy to help prevent future occurrence.  In February 2003, he was working on the Space Station when the Shuttle Columbia crashed.  The Space Shuttles were the earth's connection to the orbiting Space Station, so this calamity had a profound impact on the program he oversaw.
Mr. Zipay continues to put his training and intellect into perfecting our space travel and protecting our human assets in space.  In 2008 he was named the Deputy Chief of the Structures branch, where he has a team of 28 specialized engineers who work on Space Station, planning for a trip back to the Moon,  the Gateway Lunar Space Station, new space suits and the Orion Deep Space probe.   Mr. Zipay and his engineers continue to reach for the stars!
When asked about his other love, live theater turns out that star has not dimmed.  Mr. Zipay has done more than 50 community theater productions – from starring roles to building sets, including as Henry V in a production of "Becket" and the character Renfield in the play "Dracula."  "I look back on my life and I cannot imagine anything else," says Mr. Zipay.
For years he has worked to help youngsters like he was once to realize their dreams.  He keeps at hand a study that demonstrates that elementary school education is critical for children, not just so they grow up to be engineers, but that they contribute to the society at all.  In this study of 3.7 million students, 1.2 million have dropped out of school by 12th grade, and more dire, nearly 68% of state prison inmates are not high school graduates.   Education is essential to a productive life.  Mr. Zipay has regularly visited schoolchildren to spread his message of reaching for the stars.  He has even traveled back to Our Lady of Hope.  He wants students to know that their connection to space exploration is a real possibility – every child can view live TV streaming from the space station.  Mr. Zipay hopes that the next generation of students from Queens will do what he did and reach for the stars.  Everything is possible with a good Catholic school education.