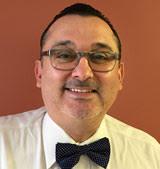 Nick 0
By Nick Vendikos,
Director of Development
"To change the world we must be good to those who cannot repay us." – Pope Francis
CHALLENGE: How are we going to respond to our Holy Father's words?
The statistics of Futures in Education have become common knowledge but they don't tell the real story of reaching out to those on the outskirts of our aid:
• $8 million provided in scholarship assistance to almost 6,000 students;
• Over 250 Angels provide financially disadvantaged students with over $1.4 million in scholarships;
• ELA and 8th grade Math test results consistently outpaced New York State and New York City schools.
Part of this story is not as heart-warming, however, as over $11 million in need goes unfulfilled, meaning that 3,000 youngsters cannot attend our schools in Brooklyn or Queens due to financial hardships.
As Board of Trustee member Regina Pitaro said recently at our Futures in Education Scholarship Dinner, "Wouldn't it be wonderful if every student that wanted to go to an excellent Catholic school in Brooklyn and Queens could go to a school like that?"
That's our goal.
And we need your help. While approximately 6,000 students are helped by your generosity, again there are almost 3,000 kids who attend a failing public school and not a school of their choice in the Brooklyn Diocese because we do not have the necessary money to assist their families.
You can change that by clicking here to donate now and by forwarding this email to your entire contact list.
You will be helping kids like these:
"I am thankful for your help and support and you are always in my heart. I appreciate it deeply and I can't find the words to express my gratitude. You've given me a chance to continue learning at St. Anselm School and I am forever grateful." – Celene, Angel Recipient
"Thank you so much for helping my family pay off my tuition. I am doing great in school and I'm giving 250% in my school work. I love being in Most Holy Trinity School and you have helped me stay where I love to learn. – Sade, Angel Recipient
"I wanted Anthony to attend Catholic school because I believe that a good religious foundation is the best way to ensure a good life. Last year tuition was a challenge but I truly feel it was worth the sacrifice. I am grateful to you all for making this coming year so much easier. Thank you for helping me to keep my son on the correct path so that tomorrow he can grow to be a good and productive human being!" – Parent of Angel Student
As we enter the holiday season of Thanksgiving, Advent and Christmas, let's heed the words of Pope Francis and give alms to those who need our help.
While they won't be able to repay you, with a Catholic education based on a strong moral foundation, these children will someday be able to help other children in need.
One day soon, no child will be denied a Catholic education in Brooklyn and Queens due to financial disadvantages.
P.S. While you may have made a gift already, have you considered leaving a legacy? For more information on making a gift that won't cost you during your lifetime, please contact me at 718-965-7308 ext. 1624 or at nvendikos@cfbq.org to learn more.