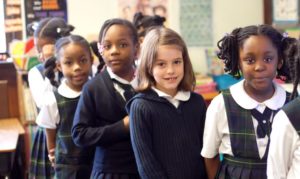 Msgr. Jamie Gigantiello, Vicar for Development
One of my favorite things to do is to read the letters our Angel donors receive each year from the students and their parents supported by the Futures in Education's Be an Angel to a Student program. In this special program, an Angel is someone who changes the life of a student when he or she donates funds to cover a portion of that student's tuition for a Catholic education. So many beautiful things stand out in those letters. The hopes and dreams of the children come alive,  held up by the willing sacrifice of their parents and their strong desire to pass on their faith in the best way they know how.
This program started with the vision of several business leaders and friends of the Diocese of Brooklyn in 1989. When they collaborated on how to preserve Catholic education in our Brooklyn and Queens schools, the idea of the Angel program came to life. The vision of these men and women involved in the creation of this program 30 years ago still rings true today: The most effective way to support Catholic education is to assist families by covering a portion of the cost of tuition. They saw the willingness of the parents and the hopes of the children and knew this was how they could make a difference.
After helping place a few dozen students in the seats of our schools in the first year of Futures in Education, the program soon grew. This past academic year, $7.2 million was awarded to nearly 4,700 students. Over the 30-year history of Futures in Education, more than 30,000 students have been awarded $108 million in needs-based scholarships. These astounding numbers are something that makes proud all past and current supporters of Futures in Education. The students helped by our loyal supporters would not have had the opportunity of a Catholic education.
Behind each scholarship award is a personal story of a student who has been given this special gift. The beauty of the Angel program is the direct impact it has – one student at a time. So, I share with you here, some excerpts from what I have read from the students and families who wrote to their Angel donors this year:
"Dear Angel. Thank you for helping to make my dreams come true." – An 8th grader
"We would like to thank you for your constant support…Because of your generous help, our son has the privilege of continuing his Catholic education under the guidance of God, learning principles and respect for himself and others…thank you from the bottom of our hearts…" – Parents of a 6th grader
"My school is the best…we care about each other, we bring in food for the food pantry and pray for anyone who is sick. My favorite subject is Religion…I like to learn about God and his wonderful story. Thank you for helping my family…" – A 5th grader
You can become a part of the history of Futures in Education as we begin our next 30 years. Change a life today and be the one who helps write the next story for one special student.