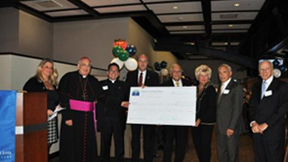 news1
Futures in Education hosted its annual Angel Reception on April 7. Futures had one of the best turnouts in history, allowing Angel sponsors to meet the students they support in the Diocese of Brooklyn Catholic schools.
The evening was full of fun games, great food and an amazing view of the stadium at Citi Field. A memorable moment of the night was hearing Antonio, a student at St. Frances Cabrini Catholic Academy in Bushwick, express his gratitude to his Angel. Antonio is an 8th grader and has been accepted to Regis High School on a full scholarship.
"Every student who is part of the program, and all those here tonight, hear my voice, and know that you should be very grateful for the gift of the education you have been given through the generosity of the Angels in this room," said Antonio.