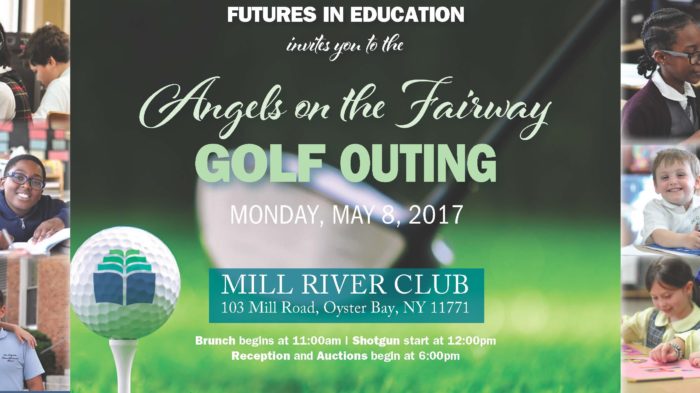 Angels on the Fairway Golf Outing
& Spring Benefit
About The Event
On Monday, May 8, Futures in Education hosted The 2017 Angels on the Fairway Golf Outing at The Mill River Club in Oyster Bay. The day raised funds to benefit scholarship for students in the Diocese of Brooklyn. Jahanara Lopez, an 8th grade student from Queen of the Rosary in Brooklyn joined the golfers during the dinner program to share her experience as a recipient of an Angel scholarship.

Jahanara acknowledged her Angel donor, the late Futures in Education Board of Trustee member Brendan Dugan, thanking him and his family for their generosity and kindness. "Angels are very important to those of us who have them," Jahanara said. She spoke of her family, growing up in the Catholic faith and of her ability to be closer to both her family and her faith because of her Catholic education. Jahanara was able to personally thank members of Dugan's family, some of whom were in attendance. She also shared the importance of a Catholic school education, inspiring many in the audience by sharing her belief that, "when educating the minds of our youth, we must never forget to educate their heart."

The Angels on the Fairway Golf Outing is closely associated with Futures in Education's signature scholarship program, the Be an Angel to a Student program. Each year, Futures in Education matches hundreds of generous donors with a student in need, providing each with partial tuition assistance to a Catholic school or Academy in Brooklyn and Queens.

Monsignor Jamie Gigantiello, Vicar for Development of the Diocese of Brooklyn, spoke at the dinner and thanked guests for their generosity and support. He emphasized that, "there are many longtime friends of Futures in Education with us this evening, and some new friends as well. Thanks to the support we received today, more of our children will be able to attend a Catholic school of their choice in Brooklyn and Queens, and for that we are tremendously grateful."

Futures in Education is an organization dedicated to ensuring that all current and future generations of under served students in Brooklyn and Queens, regardless of their financial status, have access to a high quality Catholic education.
Sponsorship Levels
$25,000 Event Sponsor- Provides 10 scholarships
Two foursomes at premier starting hole.
Distinguished recognition before, after and during event including signage and logo on all printed materials.
Reservation for team plus 12 guests at Reception
Two featured Hole Sponsorships
Right of first refusal to accept Event Sponsorship for 2018 outing.
$15,000 Reception Sponsor- Provides 7 scholarships
One foursome at premier starting hole.
Prominent recognition at Reception and in program
Reservation for team plus 10 guests at Reception
One featured Hole Sponsorship
Right of first refusal to accept Reception Sponsorship for 2018 outing
$10,000 Teacher Sponsor- Provides 5 scholarships
One Foursome
Reservation for team plus 6 guests at Reception
Hole Sponsorship
Right of first refusal to accept Teacher Sponsorship for 2018 outing
$6,000 Student Sponsor- Provides 3 scholarships
One foursome
Reservation for team plus 4 guests at Reception
Formal recognition in program and at Reception
Hole Sponsorship
$6,000 Cart Sponsor
Provides 4 scholarships & includes 10 tickets to Reception
$6,000 Entertainment Sponsor
Provides 4 scholarships & includes 10 tickets to Reception
$6,000 Hole-in-One Sponsor
Provides 4 scholarships & includes 10 tickets to Reception
$4,500 Brunch Sponsor
Provides 3 scholarships & includes 8 tickets to Reception
$4,500 Giveaway Sponsor
Provides 3 scholarships & includes 8 tickets to Reception
$3,000 Breakfast Sponsor
Provides 2 scholarships & includes 4 tickets to Reception
$3,000 Caddy Sponsor
Provides 2 scholarships and includes 4 tickets to Reception
$3,000 Driving Range Sponsor
Provides 2 scholarships & includes 4 tickets to Reception
$3,000 Practice Range Sponsor
Provides 2 scholarships & includes 4 tickets to Reception
$3,000 Print Sponsor
Provides 2 scholarships & includes 4 tickets to Reception
$1,500 Hole/Tee Angel Sponsor
Provides 1 Angel Scholarship & includes 2 tickets to Reception