Futures in Education hosted its annual Angel Reception the evening of Thursday, April 6, at the New York Hall of Science.  Students had the unique opportunity to meet, interact and thank their Angels.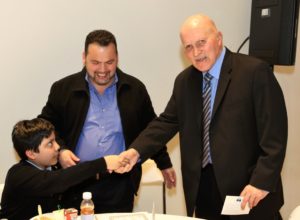 The Be An Angel to a student program matches a student in need one to one with an Angel.  Angels help subsidize the cost of Catholic grammar school tuition to a student by providing partial tuition assistance starting at $1,500/year.
Queen of the Rosary eighth grader, Jahanara Lopez spoke of her gratitude to her Angel for the chance to attend a school where not only her mind but her heart received an education.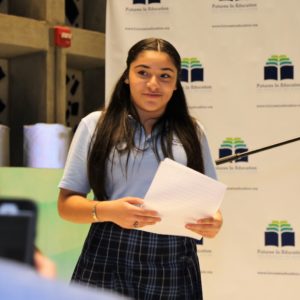 Reverend Monsignor Jamie J.Gigantiello, Director of the Office of Parish Giving and Vicar for Development and members of the board presented Most Reverend Nicholas DiMarzio, Bishop of Brooklyn and Thomas Chadzutko, Ed.D., Superintendent of Schools with a check for seven million dollars, raised to help provide a Catholic education for students in need.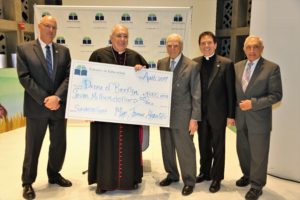 The evening ended with the children presenting a sign they had made to their Angels to thank them.