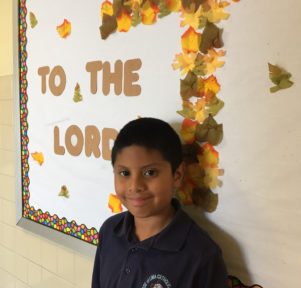 Tyler Mackie, age 11, has been attending St. Rose of Lima Catholic Academy in Rockaway Beach since Pre-Kindergarten. Tyler and his sister were adopted from Guatemala in 2006 and 2007, respectively, and in 2012, Tyler and his family were displaced from their home for months following Superstorm Sandy. Since the storm, Tyler's father has been unemployed on and off and only recently was able to find work.
Tyler works very hard in school and is a very diligent student. His favorite class is religion, as he loves listening to the stories and learning about the history of Jesus. Tyler also loves being in the book club and looks forward to going every week. He loves singing in the choir and enjoys helping out with the younger children who stay after school. Tyler's favorite part of St. Rose of Lima is that it feels like a second family and he loves spending time there learning.
Thanks to Tyler's Angel scholarship, Tyler's mom and dad are still able to give Tyler and his sister the Catholic education and opportunity that they deserve and a chance at the future everyone wants for their children.
To learn more about how you can help students like Tyler afford the opportunity to attend one of our premier Catholic schools in Brooklyn and Queens, please call 718-965-7308. We graciously thank you for changing lives through the gift of education!